A great work cannot be done in a short time.
"How could I have a new life"
Binod Dhakal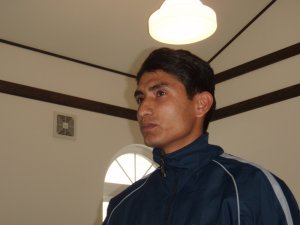 Youth leader of Chitwan Christian Church, Nepal
"I tell you the truth it is hard for a rich man to enter the kingdom of heaven."
(Matt 19:23)
"Jayamashiha!"
It is the greetings to say from one Christian to another Christian in Nepal. This greetings show that he or she is Nepali Christian. Now, Greetings to all in the name of Jesus Christ. I feel so happy and thankful to heavenly father Jesus, Kuryuu sensei, and all my family of this Home Church.
Respect all members.
My name is Binod Dhakal. I was bone in remote area of Nepal on 1980. I grew up in Hindu family. I was very much surprised to see the people worshiping a stone as a god. And they offer animals and give blood in their god for their peace. I was always against killing innocent animals for making their God happy. Doubt to believe to their god whom my family and I have been worshiping from the beginning of my life.
At that time there were 21 members in my family(altogether, grand father and mother, parents, uncles, aunts, and all brothers and sisters). My father has 4 brothers, among them all three are government worker or they have permanent job. And also their wives have job. Unfortunately my parents are uneducated. They both are farmers. In Nepal, our society farmers are dominated. They have no response, no respect. Anyway all of us in the family were living well. At the time, I felt sad why my family and mother were uneducated, why they did not they work in office. But now we are separated although I have grandfather and mother. They live with uncle's house.
When I was 10 years old, I got terrible shock of my mother's death. By this incident disturbed my mind and study. Before that I was always first score in my class. I found roaming. I did not like study and stay with all family although they lived me very much. At that time I got one pamphlets. In the cover of paper, there was a sign of cross and it was written "Jesus Christ in your life". It was written in Nepali. I read this paper carefully. At the last of this paper if you want to believe in Jesus as your God, "Please pray like this." There was a prayer statement. I prayed according to that statement. After some days I feel easy. At that time when I was studying in my school course, someone came to me and asked permission to give some minutes. I agreed his talking request. Then he asked me some question about the belief and hope of God for eternal life. I was very strange. I felt quite new things which I read in tracts already. He told me Jesus is the personal Saviour and God, Only Jesus is the one, who is way, life and truth. And he gave me the Bible. This every new message touched my heart and I begun to know more and more new things about Jesus and his live in the world by reading some Christian articles.
Lastly I came to know myself a sinner in this world. I realized that I am living a sinful life. I believed that Jesus Christ is the son of God who descended from the heaven to save me personally. Since I believe Jesus Christ as personal Saviour, and I was baptized. The person who told me about Jesus was pastor of our church. He gave me the baptism.
After that the pastor and I decided to establish church. So we established the Chitwan Christian Church in 1997. We worshiped regularly. Pastor and myself worked hard in morning and evening time. In day time, I went to college. I also shared my belief in college. By the grace of God, I started to teach in government school. That was good job for me. When I was teaching, I worked hard for the development of the church. But after one year I decided to resign from the job and started full time work in church ministry. Through God's blessing, we succeeded to bring many souls in God's kingdom. According to Matthew 7:7-8, God answered all my prayers. When I was working as youth reader I faced many difficulties from society, and college. They hate me because I am Christian. By the blessing of God I was succeeded to help the people of community. Now I have not faced that kind of problem.
Now I realized that my life is to work in God's ministry. I am very much thankful to my pastor Krishan Pandey. Now I passed the Bachelor Degree from University. I am working with around 200 believers and 5 orphans. I also established one NGO(Creative woman society in Nepal) to work in the field of women. In Nepal, the government do not give permission to register Church in government office. If we want to act for social workers, we should make NGO.
Because in Nepal womans are discriminated. They are only in home, faced many problems from their husband. But I could not do any important program because of financial problem. Anyway, we are devoted to spread the God's word with the base of different activities(health camp, informal education, short term training for farmers, short term job training, helping children for education). I would like to request all of you to include me and my church in your daily prayers. I firmly believe that with your prayers everything will be fine.
Then I could say from my experience, "There is no way to attain a high degree of perfection except through great trials. There never has been and never will be an easy path to sanctity. According to the bible 2nd Corinthians 12:10, "Gladly will I glory in my infirmities, for when I am weak, then I am strong." And Isaiah 41:13, "For I am the Lord, your God, who grasps your night hand; It is I who say to you, "Fear not, I will help you." When we are in the service of God we have nothing to worry about for God will provide everything you need.
Finally, I would like to say ARI family, family of my church in Nepal and family of church in Japan and personally thanks to Kacchan(translator).
Thank you. Amen.